Item request has been placed!
×
Item request cannot be made.
×
Processing Request
My typical reading tastes
I typically enjoy non-fiction with an occasonal mix of young adult (YA), fantasy, and a classic here or there. 
I'm Currently Reading
The Anthropocene Reviewed : Essays On a Human-Centered Planet By John Green
Goodreads Choice winner for Nonfiction 2021 and instant #1 bestseller! A deeply moving collection of personal essays from John Green, the author of The Fault in Our Stars and Turtles All the Way Down.

"The perfect book for right now." - People

" The Anthropocene Reviewed is essential to the human conversation." - Library Journal , starred review

The Anthropocene is the current geologic age, in which humans have profoundly reshaped the planet and its biodiversity. In this remarkable symphony of essays adapted and expanded from his groundbreaking podcast, bestselling author John Green reviews different facets of the human-centered planet on a five-star scale--from the QWERTY keyboard and sunsets to Canada geese and Penguins of Madagascar.

Funny, complex, and rich with detail, the reviews chart the contradictions of contemporary humanity. As a species, we are both far too powerful and not nearly powerful enough, a paradox that came into sharp focus as we faced a global pandemic that both separated us and bound us together.

John Green's gift for storytelling shines throughout this masterful collection. The Anthropocene Reviewed is a open-hearted exploration of the paths we forge and an unironic celebration of falling in love with the world.
Titles I love to recommend
The Last Cuentista by Donna Barba Higuera
Winner of the John Newbery Medal
Winner of the Pura Belpré Award

TIME's Best Books of the Year | Wall Street Journal's Best of the Year | Minneapolis Star Tribune's Best of the Year | Boston Globe's Best of the Year | BookPage's Best of the Year | Publishers Weekly's Best of the Year | School Library Journal's Best of the Year | Kirkus Reviews' Best of the Year | Bank Street's Best of the Year | Chicago Public Library's Best of the Best | New York Public Library Best of the Year | A Junior Library Guild Selection | Cybils Award Finalist
Había una vez . . .
There lived a girl named Petra Peña, who wanted nothing more than to be a storyteller, like her abuelita. But Petra's world is ending. Earth has been destroyed by a comet, and only a few hundred scientists and their children - among them Petra and her family - have been chosen to journey to a new planet. They are the ones who must carry on the human race. Hundreds of years later, Petra wakes to this new planet - and the discovery that she is the only person who remembers Earth. A sinister Collective has taken over the ship during its journey, bent on erasing the sins of humanity's past. They have systematically purged the memories of all aboard - or purged them altogether. Petra alone now carries the stories of our past, and with them, any hope for our future. Can she make them live again?
I'll Be Gone in the Dark: One Woman's Obsessive Search for the Golden State Killer by Michelle McNamara
The basis for the major 6-part HBO documentary series
#1 New York Times Bestseller
A Best Book of the Year from:
Washington Post | Maureen Corrigan, NPR | Paste | Seattle Times | Entertainment Weekly | Esquire | Slate | Buzzfeed | Jezebel | Philadelphia Inquirer | Publishers Weekly | Kirkus Reviews | Library Journal | Bustle 
For more than ten years, a mysterious and violent predator committed fifty assaults in Northern California before moving south, where he perpetrated ten sadistic murders. Then he disappeared, eluding capture by multiple police forces and some of the best detectives in the area.
Three decades later, Michelle McNamara, a true crime journalist who created the popular website TrueCrimeDiary.com, was determined to find the violent psychopath she called "the Golden State Killer." Michelle poured over police reports, interviewed victims, and embedded herself in the online communities that were as obsessed with the case as she was. I'll Be Gone in the Dark—the masterpiece McNamara was writing at the time of her sudden death—offers an atmospheric snapshot of a moment in American history and a chilling account of a criminal mastermind and the wreckage he left behind. It is also a portrait of a woman's obsession and her unflagging pursuit of the truth. Utterly original and compelling, it has been hailed as a modern true crime classic—one which fulfilled Michelle's dream: helping unmask the Golden State Killer.
Six of Crows Series by Leigh Bardugo
Ketterdam: a bustling hub of international trade where anything can be had for the right price--and no one knows that better than criminal prodigy Kaz Brekker. Kaz is offered a chance at a deadly heist that could make him rich beyond his wildest dreams. But he can't pull it off alone. . . .
A convict with a thirst for revenge. | A sharpshooter who can't walk away from a wager. | A runaway with a privileged past. | A spy known as the Wraith. | A Heartrender using her magic to survive the slums. | A thief with a gift for unlikely escapes.
Six dangerous outcasts. One impossible heist. Kaz's crew is the only thing that might stand between the world and destruction--if they don't kill each other first. Six of Crows by Leigh Bardugo returns to the breathtaking world of the Grishaverse in this unforgettable tale about the opportunity--and the adventure--of a lifetime.
Killers of the Flower Moon: The Osage Murders and the Birth of the FBI by David Grann
New York Time Bestseller | National Book Award Finalist | Shelf Awarness's Best Book of 2017 | Named a best book of the year by: Wall Street Journal, The Boston Globe, San Francisco Chronicle, GQ, Time, Newsday, Entertainment Weekly, Time Magazine,  NPR's Maureen Corrigan ,  NPR's "On Point," Vogue, Smithsonian, Cosmopolitan, Seattle Times, Bloomberg, Lit Hub's "Ultimate Best Books ," Library Journal, Paste, Kirkus, Slate.com   and Book Browse
In the 1920s, the richest people per capita in the world were members of the Osage Indian nation in Oklahoma. After oil was discovered beneath their land, they rode in chauffeured automobiles, built mansions, and sent their children to study in Europe. Then, one by one, the Osage began to be killed off. The family of an Osage woman, Mollie Burkhart, became a prime target. Her relatives were shot and poisoned. And it was just the beginning, as more and more members of the tribe began to die under mysterious circumstances. In this last remnant of the Wild West--where oilmen like J. P. Getty made their fortunes and where desperadoes like Al Spencer, the "Phantom Terror," roamed--many of those who dared to investigate the killings were themselves murdered. As the death toll climbed to more than twenty-four, the FBI took up the case. It was one of the organization's first major homicide investigations and the bureau badly bungled the case. In desperation, the young director, J. Edgar Hoover, turned to a former Texas Ranger named Tom White to unravel the mystery. White put together an undercover team, including one of the only American Indian agents in the bureau. The agents infiltrated the region, struggling to adopt the latest techniques of detection.  Together with the Osage they began to expose one of the most chilling conspiracies in American history. In Killers of the Flower Moon, David Grann revisits a shocking series of crimes in which dozens of people were murdered in cold blood. Based on years of research and startling new evidence, the book is a masterpiece of narrative nonfiction, as each step in the investigation reveals a series of sinister secrets and reversals. But more than that, it is a searing indictment of the callousness and prejudice toward American Indians that allowed the murderers to operate with impunity for so long. Killers of the Flower Moon is utterly compelling, but also emotionally devastating.
Daring Greatly: How the Courage to Be Vulnarable Tranforms the Way We Live, Love, Parent, and Lead by Brene Brown
Researcher and speaker Dr. Brene Brown offers an all-embracing new philosophy that provides encouragement to dare greatly: to embrace vulnerability and imperfection, to live wholeheartedly and to courageously engage in life, whatever it brings. Dr. Brown challenges preconceived ideas about vulnerability. Based on twelve years of research, she argues that vulnerability is not weakness, but rather the clearest path to courage, engagement and meaningful connection.
Black Flags: The Rise of ISIS by Joby Warrick
Winner of the Pulitzer Prize
In a thrilling dramatic narrative, Pulitzer Prize-winning reporter Joby Warrick traces how the strain of militant Islam behind ISIS first arose in a remote Jordanian prison and spread with the unwitting aid of two American presidents. When the government of Jordan granted amnesty to a group of political prisoners in 1999, it little realized that among them was Abu Musab al-Zarqawi, a terrorist mastermind and soon the architect of an Islamist movement bent on dominating the Middle East. In Black Flags, an unprecedented character-driven account of the rise of ISIS, Joby Warrick shows how the zeal of this one man and the strategic mistakes of Presidents Bush and Obama led to the banner of ISIS being raised over huge swaths of Syria and Iraq. Zarqawi began by directing terror attacks from a base in northern Iraq, but it was the American invasion in 2003 that catapulted him to the head of a vast insurgency. By falsely identifying him as the link between Saddam and bin Laden, U.S. officials inadvertently spurred like-minded radicals to rally to his cause. Their wave of brutal beheadings and suicide bombings persisted until American and Jordanian intelligence discovered clues that led to a lethal airstrike on Zarqawi's hideout in 2006. His movement, however, endured. First calling themselves al-Qaeda in Iraq, then Islamic State of Iraq and Syria, or ISIS, his followers sought refuge in unstable, ungoverned pockets on the Iraq-Syria border. When the Syrian civil war broke out in 2011, and as the U.S. largely stood by, ISIS seized its chance to pursue Zarqawi's dream of an ultra-conservative Islamic caliphate. Drawing on unique high-level access to CIA and Jordanian sources, Warrick weaves gripping, moment-by-moment operational details with the perspectives of diplomats and spies, generals and heads of state, many of whom foresaw a menace worse than al Qaeda and tried desperately to stop it. Black Flags is a brilliant and definitive history that reveals the long arc of today's most dangerous extremist threat.
Savage Inequalities : Children in America's Schools by Jonathan Kozol
New York Times Bestseller
In 1988, Jonathan Kozol set off to spend time with children in the American public education system. For two years, he visited schools in neighborhoods across the country, from Illinois to Washington, D.C., and from New York to San Antonio. He spoke with teachers, principals, superintendents, and, most important, children. What he found was devastating. Not only were schools for rich and poor blatantly unequal, the gulf between the two extremes was widening—and it has widened since. The urban schools he visited were overcrowded and understaffed, and lacked the basic elements of learning—including books and, all too often, classrooms for the students. In Savage Inequalities, Kozol delivers a searing examination of the extremes of wealth and poverty and calls into question the reality of equal opportunity in our nation's schools.
The Whole-Brain Child: 12 Revolutionary Strategies to Nurture Your Child's Developing Mind by Daniel J. Siegel and Tina Payne Bryson
In this pioneering, practical book, Daniel J. Siegel, neuropsychiatrist and author of the bestselling Mindsight, and parenting expert Tina Payne Bryson offer a revolutionary approach to child rearing with twelve key strategies that foster healthy brain development, leading to calmer, happier children. The authors explain - and make accessible - the new science of how a child's brain is wired and how it matures. The 'upstairs brain,' which makes decisions and balances emotions, is under construction until the mid-twenties. And especially in young children, the right brain and its emotions tend to rule over the logic of the left brain. No wonder kids throw tantrums, fight, or sulk in silence. By applying these discoveries to everyday parenting, you can turn any outburst, argument, or fear into a chance to integrate your child's brain and foster vital growth. Complete with age-appropriate strategies for dealing with day-to-day struggles and illustrations that will help you explain these concepts to your child, The Whole-Brain Child shows you how to cultivate healthy emotional and intellectual development so that your children can lead balanced, meaningful, and connected lives.
Red Queen Series by Victoria Aveyard
#1 New york Times Beseller
Mare Barrow's world is divided by blood--those with common, Red blood serve the Silver-blooded elite, who are gifted with superhuman abilities. Mare is a Red, scraping by as a thief in a poor, rural village, until a twist of fate throws her in front of the Silver court. Before the king, princes, and all the nobles, she discovers she has an ability of her own. To cover up this impossibility, the king forces her to play the role of a lost Silver princess and betroths her to one of his own sons. As Mare is drawn further into the Silver world, she risks everything and uses her new position to help the Scarlet Guard--a growing Red rebellion--even as her heart tugs her in an impossible direction. One wrong move can lead to her death, but in the dangerous game she plays, the only certainty is betrayal.
My typical reading tastes:
Titles I love to recommend:
My typical reading tastes:
Mostly young adult fiction with the occasional adult fantasy or sci-fi. I love adventure, crime capers, and anything with brilliant plot twists, gorgeous world-building, snarky characters, or cool magic systems. I also have a soft spot for several of the classics.
I'm currently reading:
Howl's Moving Castle by Diana Wynne Jones
Sophie has the great misfortune of being the eldest of three daughters, destined to fail miserably should she ever leave home to seek her fate. But when she unwittingly attracts the ire of the Witch of the Waste, Sophie finds herself under a horrid spell that transforms her into an old lady. Her only chance at breaking it lies in the ever-moving castle in the hills: the Wizard Howl's castle. To untangle the enchantment, Sophie must handle the heartless Howl, strike a bargain with a fire demon, and meet the Witch of the Waste head-on. Along the way, she discovers that there's far more to Howl--and herself--than first meets the eye. In this giant jigsaw puzzle of a fantasy, people and things are never quite what they seem. Destinies are intertwined, identities exchanged, lovers confused. The Witch has placed a spell on Howl. Does the clue to breaking it lie in a famous poem? And what will happen to Sophie Hatter when she enters Howl's castle?
Book of Night by Holly Black
Charlie Hall has never found a lock she couldn't pick, a book she couldn't steal, or a bad decision she wouldn't make. She's spent half her life working for gloamists, magicians who manipulate shadows to peer into locked rooms, strangle people in their beds, or worse. Gloamists guard their secrets greedily, creating an underground economy of grimoires. And to rob their fellow magicians, they need Charlie Hall. Now, she's trying to distance herself from past mistakes, but getting out isn't easy. Bartending at a dive, she's still entirely too close to the corrupt underbelly of the Berkshires. Not to mention that her sister Posey is desperate for magic, and that Charlie's shadowless, and possibly soulless, boyfriend has been hiding things from her. When a terrible figure from her past returns, Charlie descends into a maelstrom of murder and lies. Determined to survive, she's up against a cast of doppelgangers, mercurial billionaires, gloamists, and the people she loves best in the world—all trying to steal a secret that will give them vast and terrible power.
Titles I love to recommend:
The Queen's Thief series by Megan Whalen Turner
YA  Adventure/Historical Fantasy. A clever young thief lands himself in prison after bragging that he can steal anything. When he is recruited by the king's advisor, he finds himself on an adventure to steal a legendary artifact. Travel through a world inspired by ancient Greek and Byzantine world, and enjoy snarky characters, intricate plotting, and a rich mythology. Start the series with The Thief.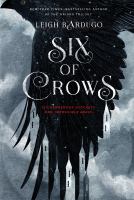 The Six of Crows duology by Leigh Bardugo
YA Fantasy/Crime Caper. A criminal mastermind, a knife-wielding spy, a sharpshooter with a gambling problem, a demolitions expert with a privelidged past, a soldier with the power to stop your heart, and an escaped prisoner on a quest for revenge team up for an impossible heist with the score of a lifetime. Enjoy gorgeous world-building, complex characters, and brilliant scheming.
The Name of the Wind by Patrick Rothfuss
High Fantasy/Adventure. Kvothe is a legendary magician, bard, and folk hero, but he's hiding from the world and posing as an innkeeper. When a chronicler of tales finds his way to Kvothe's inn, he reluctantly agrees to tell the true story of his life, from his childhood as a traveling trouper, to his days fighting for survival on the streets, to his studies of magic and wisdom at the University. This book is packed with gorgeous descriptions, detailed world-building, and an intricately crafted magic system that almost seems plausible.
The Martian by Andy Weir
Science Fiction/Survival. When a space mission goes terribly wrong, astronaut Mark Watney is stranded alone on Mars. His crew thinks he's dead and evacuated without him, he has no way to communicate with Earth, and it's only a matter of time before he runs out of supplies. With only his engineering skills, botany know-how, determination, and tireless sense of humor, Mark has to fight against everything Mars can throw at him in the hopes of somehow making it home. This book has brilliantly accurate and believable science, unending humor, and leaves you constantly wondering what will happen next. If you loved the movie, the book is even better!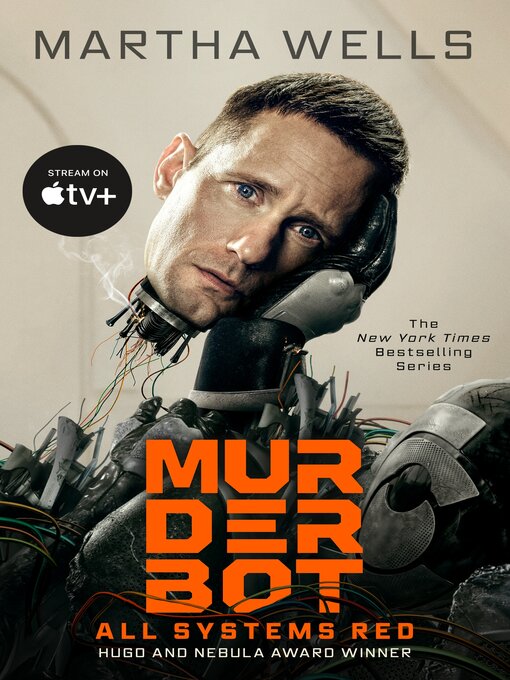 The Murderbot Diaries by Martha Wells
Science Fiction/Adventure. In a spacefaring society dominated by the Company, all exploratory missions are required to use Company-supplied security androids. But when one SecUnit secretly hacks it's own system, it suddenly has the free will to do whatever it wants... which is usually watching its favorite TV shows and avoiding awkward social interactions. When the scientific mission it's contracted on goes wrong, it's up to the SecUnit (or Murderbot as it secretly calls itself) to figure out what's going on and what it really wants out of life. This series packs lots of action, humor, and very relatable social awkwardness into quick novellas and is great for anyone who likes The Martian. Start the series with All Systems Red.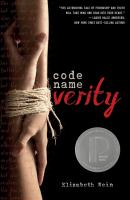 Code Name Verity by Elizabeth Wein
YA Historical Fiction. A young British spy, "Verity," is captured when her plane crashes in Nazi-occupied France during WWII. As she writes out her confession, we learn about Maddie, a pilot and Verity's best friend, and how they  became friends through their roles in the war effort. The details are fictionalized, but it has an authentic feel and gives an interesting look at British women's lives during the war. It's a beautifully written, intricately plotted, and heartbreakingly sad story of danger, survival, and, above all, friendship.
Jane Eyre by Charlotte Bronte
Classic/Gothic Romance. Jane Eyre was orphaned at a young age, was cast out of her cruel aunt's home, and spent almost half her life at a bording school for girls, but when she finishes her schooling, she finally has a chance to decide her own future. She is hired as governess to the young ward of the brooding Mr. Rochester, but she may find more than she bargained for behind the walls of Thornfield Hall. This book mixes elements of Victorian era romance, coming of age stories, and gothic horror, and through it all, Jane remains fiercely independent and steadfast in her beliefs.
My typical reading tastes:
Anything with a touch of humor - I don't do tearjerkers! I read fiction in all genres, and if I'm going to read non-fiction cover to cover, it has to tell a good story. Browsing through craft and house design books fuels my daydreams.
I'm currently reading:
The Bernie & Chet mystery series, by Spencer Quinn.
Bernie Little, a decorated veteran, runs the Little Detective Agency with his partner Chet, who would have aced his K-9 final exam if not for a wretched cat. With Bernie's brains and Chet's nose, they are unstoppable! Chet's joyful narration and his love for Bernie (always the smartest guy in the room) will draw you in. Start with Dog On It.
Titles I love to recommend:
Good Omens, by Terry Pratchett and Neil Gaiman - An angel and a demon team up to prevent the imminent Apocalypse, but the end of the world gets muddled when the Anti-Christ is swapped with another baby at birth. Irreverent, complex, and hilarious!
The Secret History of the Pink Carnation, by Lauren Willig -  Sometimes the best man for a job is a woman, as Amy Balcourt demonstrates when she assumes the identity of The Pink Carnation to serve as a British spy and prevent Napoleon from invading. This fun read is full of wit, intrigue, and romance.
The Rosie Project, by Graeme Simsion - Don Tillman is a scientist who lives a structured, orderly life. When he decides to marry, he creates a questionnaire to help him find a woman who meets his exacting criteria. How could this plan possibly go wrong?
Endurance, by Alfred Lansing - In 1914, Sir Ernest Shackleton led an expedition of twenty-eight men to traverse Antarctica. They were trapped there when ice crushed their ship. This account of their survival is compiled from logs and journals kept by the explorers, all of whom were rescued a year and a half later.
The Endurance, by Caroline Alexander - After reading Endurance, you must see these photographs! That's right - not only did everyone survive, but Frank Hurley, the expedition's photographer, kept his camera and glass negatives safe throughout their ordeal.
The Beekeeper's Apprentice, by Laurie R. King - Sherlock Homes has retired and, to all appearances, is enjoying a solitary life as a beekeeper... until he meets a girl who is his intellectual equal. Does he need - or even want - a partner at this point in his life?
The Martian, by Andy Weir - The movie is one of my favorites and the book is even better! Mark Watney, botanist/astronaut, is stranded alone on Mars with little hope of rescue. Mars will come to fear his botany powers!
Chronicles of St.Mary's series, by Jodi Taylor, in which historians investigate historical events in contemporary time. Start with Just One Damned Thing After Another, and whatever you do, DON'T CALL IT TIME TRAVEL!
My typical reading tastes
My comfort reads incude historical fiction, and romance, I also dabble in fantasy.
I'm currently reading
Find out how wacky words can be with Dr. Seuss and the Fox in Socks in this classic hardcover picture book of tongue tanglers!

This rhyming romp includes chicks with bricks, chewy blue glue, a noodle eating poodle, and so much more! Just try to keep your tongue out of trouble! Seuss piles his the energetic rhymes into a mountain of hilarity that the whole family will enjoy. Rhyming has never been this fun!

Originally created by Dr. Seuss himself, Beginner Books are fun, funny, and easy to read. These unjacketed hardcover early readers encourage children to read all on their own, using simple words and illustrations. Smaller than the classic large format Seuss picture books like The Lorax and Oh, The Places You'll Go!, these portable packages are perfect for practicing readers ages 3-7, and lucky parents too!
Will Pickle find his purpose to change the world?
Titles I love to recommend
NEBULA AWARD WINNER * HUGO AWARD FINALIST * "If you want a fantasy with strong characters and brilliantly original variations on ancient stories, try Uprooted!"--Rick Riordan
 
"Breathtaking . . . a tale that is both elegantly grand and earthily humble, familiar as a Grimm fairy tale yet fresh, original, and totally irresistible."--Publishers Weekly (starred review)

NAMED ONE OF THE BEST BOOKS OF THE YEAR BY NPR * BuzzFeed * Tordotcom * BookPage * Library Journal * Publishers Weekly

Agnieszka loves her valley home, her quiet village, the forests and the bright shining river. But the corrupted Wood stands on the border, full of malevolent power, and its shadow lies over her life.

Her people rely on the cold, driven wizard known only as the Dragon to keep its powers at bay. But he demands a terrible price for his help: one young woman handed over to serve him for ten years, a fate almost as terrible as falling to the Wood.

The next choosing is fast approaching, and Agnieszka is afraid. She knows--everyone knows--that the Dragon will take Kasia: beautiful, graceful, brave Kasia, all the things Agnieszka isn't, and her dearest friend in the world. And there is no way to save her.

But Agnieszka fears the wrong things. For when the Dragon comes, it is not Kasia he will choose.

Praise for Uprooted

"Uprooted has leapt forward to claim the title of Best Book I've Read Yet This Year. . . . Moving, heartbreaking, and thoroughly satisfying, Uprooted is the fantasy novel I feel I've been waiting a lifetime for. Clear your schedule before picking it up, because you won't want to put it down."--NPR
My typical reading tastes:
I love to read true crime stories. I enjoy learning about the killers and what drove them to commit such horrific crimes against other human beings! I just have so many questions on this subject, like: Are killers made OR are they born this way????
When I am not reading true crime, I read adult humorous fiction. I love those LOL moments, with everyone around me trying to figure out what I'm laughing at!
I also like to read young adult fiction, especially the coming-of-age books where the characters are trying to figure out life and who they are in this crazy world – I mean, aren't we all?!
I'm currently reading:
She Kills Me: The True Stories of History's Deadliest Women, by Jennifer Wright
In every tragic story, men are expected to be the killers. There are countless studies and works of art made about male violence. However, when women are featured in stories about murder, they are rarely portrayed as predators. They're the prey. This common dynamic is one of the reasons that women are so enthralled by female murderers. They do the things that women aren't supposed to do and live the lives that women aren't supposed to want; lives that are impulsive and angry and messy and inconvenient. Maybe we feel bad about loving them, but we eat it up just the same. Residing squarely in the middle of a Venn diagram of feminism and true crime, She Kills Me tells the story of 40 women who murdered out of necessity, fear, revenge, and even for pleasure.
Titles I love to recommend:
Ted Bundy: Conversations with a Killer, by Stephen G Michaud - Drawn from more than 150 hours of exclusive tape-recorded interviews with Bundy, this collection provides shocking insights into the killer's 11th-hour confessions before his death in a Florida electric chair. A unique, horrifying self-portrait of one of the most savage sex killers in history.
When Life Gives You Lululemons, by Lauren Weisberger - Welcome to Greenwich, CT, where the lawns and the women are perfectly manicured, the Tito's and sodas are extra strong, and everyone has something to say about the infamous new neighbor. Let us be clear: Emily Charlton, Miranda Priestly's ex-assistant, does not do the suburbs. She is working in Hollywood as an image consultant to the stars, but recently, Emily's lost a few clients. She is hopeless with social media. The new guard is nipping at her heels. She needs a big opportunity, and she needs it now. Karolina Hartwell is as A-list as they come. She is the former face of L'Oreal. A mega-supermodel recognized the world over. And now, the gorgeous wife of the newly elected senator from New York, Graham, who also has his eye on the presidency. It is all very Kennedy-esque, right down to the public philandering and Karolina's arrest for a DUI--with a Suburban full of other people's children. Miriam is the link between them. Until recently she was a partner at one of Manhattan's most prestigious law firms. But when Miriam moves to Greenwich and takes time off to spend with her children, she never could have predicted that being stay-at-home mom in an uber-wealthy town could have more pitfalls than a stressful legal career. Emily, Karolina, and Miriam make an unlikely trio, but they desperately need each other. Together, they will navigate the social landmines of life in America's favorite suburb on steroids, revealing the truths--and the lies--that simmer just below the glittering surface.
A Man Called Ove: A Novel, by Fredrik Backman - Meet Ove. He is a curmudgeon--the kind of man who points at people he dislikes as if they were burglars caught outside his bedroom window. He has staunch principles, strict routines, and a short fuse. People call him "the bitter neighbor from hell." But must Ove be bitter just because he does not walk around with a smile plastered to his face all the time? Behind the cranky exterior there is a story and a sadness. So, when one November morning a chatty young couple with two chatty young daughters move in next door and accidentally flatten Ove's mailbox, it is the lead-in to a comical and heartwarming tale of unkempt cats, unexpected friendship, and the ancient art of backing up a U-Haul. All of which will change one cranky old man and a local residents' association to their very foundations. A feel-good story in the spirit of "The Unlikely Pilgrimage of Harold Fry "and "Major Pettigrew's Last Stand," Fredrik Backman's novel about the angry old man next door is a thoughtful and charming exploration of the profound impact one life has on countless others.
The Perks of Being a Wallflower by Stephen Chbosky (also a movie) - This is the story of what it is like to grow up in high school. More intimate than a diary, Charlie's letters are singular and unique, hilarious, and devastating. We may not know where he lives. We may not know to whom he is writing. All we know is the world he shares. Caught between trying to live his life and trying to run from it puts him on a strange course through uncharted territory. The world of first dates and mixed tapes, family dramas and new friends. The world of sex, drugs, and The Rocky Horror Picture Show, when all one requires is that the perfect song on that perfect drive to feel infinite.
I Am Not Your Perfect Mexican Daughter, by Erika L. Sánchez (also an audiobook on CD) - Perfect Mexican daughters do not go away to college. And they do not move out of their parents' house after high school graduation. Perfect Mexican daughters never abandon their family. But Julia is not your perfect Mexican daughter. That was Olga's role. When a tragic accident on the busiest street in Chicago leaves Olga dead and Julia left behind to reassemble the shattered pieces of her family, no one seems to acknowledge that Julia is broken, too. Instead, her mother seems to channel her grief into pointing out every possible way Julia has failed. Before too long, Julia discovers that Olga might not have been as perfect as everyone thought. With the help of her best friend Lorena, and her first kiss, first love, first everything boyfriend Connor, Julia is determined to find out. Was Olga really what she seemed? Or was there more to her sister's story? And either way, how can Julia even attempt to live up to a seemingly impossible ideal?
Gabi, A Girl in Pieces, by Isabel Quintero (also available in Spanish and as an audiobook on CD) - Sixteen-year-old Gabi Hernandez chronicles her senior year in high school as she copes with her friend Cindy's pregnancy, her friend Sebastian's coming out, her father's meth habit, her own cravings for food and cute boys, and especially the poetry that helps forge her identity.
You Know I'm No Good, by Jessie Ann Foley - Mia is officially a troubled teen - she gets bad grades, drinks too much, and has probably gone too far with too many guys. After Mia punches her stepmom and gives her a black eye, she is sent to a therapeutic school for girls, where she finally confronts her past and begins to imagine a future for herself.
Sorry For Your Loss, by Jessie Ann Foley (Downloadable Audiobook through Libby) -  As the youngest of eight, painfully average Pup Flanagan is used to flying under the radar. He is barely passing his classes. He lets his longtime crush walk all over him. And he is in no hurry to decide on a college path. The only person who ever made him think he could be more was his older brother Patrick, the family's golden child. Then Patrick died suddenly, leaving Pup with a family who will not talk about it and acquaintances who just keep saying "Sorry for your loss."

But when Pup excels at a photography assignment he thought he would bomb, things start to come into focus. His dream girl shows her true colors. An unexpected friend exposes Pup to a whole new world, right under his nose. And the photograph that was supposed to show Pup a way out of his grief ultimately reveals someone else who is still stuck in their own. Someone with a secret regret Pup never could have imagined.